Following on from Gigabyte's reveal of its TouchNote M1028 range of convertible tablets at CeBIT, Gigabyte also unveiled the ThinNote M1024. As the name suggests this netbook is targeted to those that value a thin and sleek form-factor. Gigabyte seem to have succeeded on this front delivering a netbook that weighs just 890 grams (just under two pounds). However, it seems that Asus may have won on the styling front, having announced the super-slim Seashell 1008HA yesterday. Obviously it all comes down to price between the two and as of yet we still do now know exactly which regions Gigabyte plan to market to.
The ThinNote M1024 sports a 10.1-inch (1024 x 600) LED backlit screen and is powered by a 1.6GHz Intel Atom N270 CPU and Intel 945GSE chipset. Given the size, the M1024 is limited to 1GB RAM and a 60GB/80GB hard-disk drive. It also supports Wifi and Blutooth 2.1 and has optional 3.5G modem support. It comes with two USB ports, a memory card slot and a six-cell 3,400mAh battery as standard. As with the M1028, there is no word on pricing or indeed which regions the M1024 will be available in. We'll update with further information as we have it.
UPDATED (17.01): We've included a video after the jump, from the guys over at jkkmobile who went hands-on with the M1024.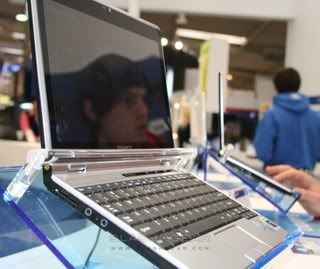 Via Slashgear