March 10, 2009 at 3:55 pm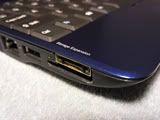 Normally when one is thinking of modding a netbook one thinks of upgrading the RAM or hard-disk drive. However, tnkgrl has gone one step further by modding her Acer Aspire One to add an eSATA port to the side. An eSATA port allows for a speedy external drive capable of 300 Mbps data transfer, nearly five times faster than using the integrated USB 2.0 ports of the AAO.
The guide is the last in a four-step series where she has already added Bluetooth, 3G, more RAM as well as swapping out her hard-drive. Budding enthusiasts beware though, this mod will void your warranty as it involves actually cutting into the casing! However, given the price of a cheap netbook over a laptop/notebook some people might want to take that risk.