March 12, 2009 at 12:38 pm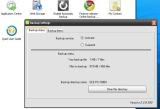 Asus has added a new utility called 'Eee Backup ' to its online storage service. This application will backup files or directories automatically and is designed to work in the background. Asus will be allocating between 10GB to 60GB of storage space per user, depending on the Eee model purchased. No luck for those wanting to backup their entire 160HDD of storage!
Asus has bundled online storage with every new Eee PC sold. This was primarily an incentivasation for the low SSD models sold. This new backup service will be free for the first 18 to 24 months after which Asus may decide to charge.
It will be interesting to see how this works in practice. I currently use Carbonite to backup my files and part of the attraction is that it backs up all of my files with a very low CPU footprint. It also constantly refreshes backups as I edit files. Obviously Carbonite costs me money and given that Asus is offering this for free has to be commended.
Via Liliputing.