March 13, 2009 at 5:28 pm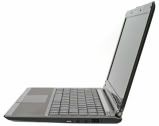 There is no doubting that the Asus S101 is one of the prettiest netbooks on the market at the moment. It's bigger brother, the 12-inch Asus S121, looks even better and according to the guys over at TrustedReviews, even nicer than Asus' 1008HA.
Apart from the great looks they found the S121 a pleasure to use with excellent battery life along with it having the best Asus keyboard they've used to date. On the negative side, this isn't the speediest netbook around (running at only 1.3GHz) with only 1GB RAM and 160GB HDD (rather than dual-storage system of the S101). Also, given a WXGA display, it seems that the most isn't made of the screen as there is little chance of running HD content on the S121 given the weak CPU. Hopefully a refresh with the Intel GN40 or Nvidia Ion is on the horizon. Key points and more pictures after the jump.
Pricing is an unknown right now, however, for those seriously looking at this luxury netbook I would imagine that value for money isn't too high up on the agenda.
Key points from preview:
12-inch (1,280 x 800) LED backlit screen itself is much better than found on most netbooks. The display has no sign of backlight bleed or banding, text is razor-sharp and viewing angles are very strong.
Even with the netbook closed it exudes style and class. It's an incredibly thin machine (only 2.5cm at its thickest point).
Build quality feels more than solid. However, glossy, luxurious finish does pick up fingerprints.
Highlight of the S121 is the keyboard. It is full-size and similar in look and feel to the implementation of HP's Compaq Mini 700.
Actual palm-rest area is real leather (matching the lid) and offers great user comfort.
Comes with a slim high-capacity six-cell battery rated at 7,200mAh/52Wh. This gave 4 hours and 20 minutes of use with medium screen brightness and wireless turned on.