March 14, 2009 at 5:52 pm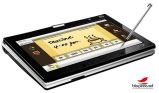 The first press shots of Asus' 8.9-inch convertible tablet, the Eee PC T91, have appeared. This is ahead of a planned April/May release. Pricing has not been confirmed but is expected to be between $499 to $ 549 (c£500) on release.
As with the other close-up shots we saw earlier in the week, the net tablet looks very elegant in white with its black edges along with metal hinge. It is one of the few 8.9-inch netbook models planned for release, with 10-inches being very much the standard now. It's certainly one of the most anticipated netbooks here at Netbook Choice (NbC), with its stylish looks and hopefully functional tablet. Its keyboard could be one of the most comfortable from Asus too. Hit the link for more pictures.
To keep the size and weight down, the system will come with a 32GB SSD. It will also come with WiFi and Bluetooth. In our view, pricing will determine how successful this net tablet becomes. Hopefully, further details will be forthcoming.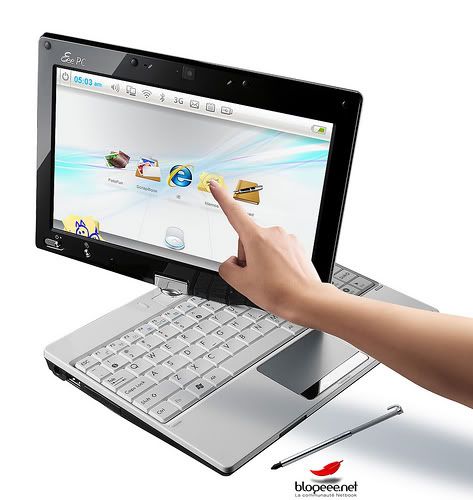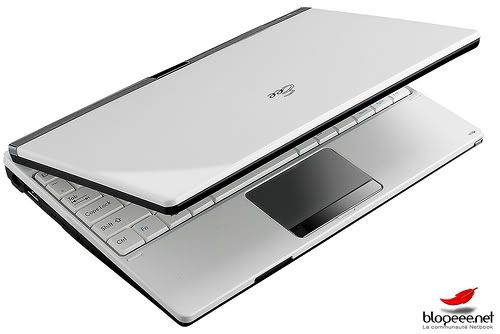 Specifications:
8.9-inch glossy WSVGA (1.024 x 600) LED backlit screen
Intel atom Z520 processor (1.33 GHz)
Intel US15W chip set
1GB DDR2 MEMORY
10/100 Ethernet
802.11 b/g wireless (n emergency confirmed)
Bluetooth
32GB SSD
Integrated webcam
Windows XP Home Service Pack 3
Optional 3G connectivity, GPS and DVB-T TV Tuner
Via Blogeee.