March 14, 2009 at 10:02 am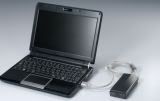 The solid-state drives that come with many netbook PCs are generally so small most users will want to upgrade them soon enough, but what does one do with the old memory? Buffalo has come up with a clever answer by developing 32GB and 64GB SSD (solid-state drive) replacements for the Asus Eee PC 901 along with a USB enclosure for converting the old SSD into an external drive.
The newer, faster drive is placed into the Eee 901 whilst the old 16GB SSD is taken out and placed into the enclosure, leaving you with a 16GB external drive. The idea is certainly novel and with SSD's growing in capacity and coming down in price we can see other manufacturers developing similar systems for other netbook models.
The 32GB kit costs ¥12,700 (£95), while the 64GB kits is ¥22,400 (£167). Sadly it is only available in Japan for now where it is expected to release in April. However, if the idea catches on we're sure to see them worldwide soon.
Via Portable Monkey.