March 14, 2009 at 2:03 pm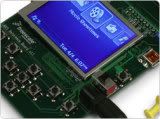 At least two ARM-powered netbooks are expected to appear at Computex Taipei according to Digitimes. One netbook due to appear will be manufactured by Pegatron Technology and equipped with Freescale's i.MX51 CPU (ARM Coretex A8) whilst the other will be manufactured by Wistron equipped with a Qualcomm Snapdragon CPU.
ARM's Chief Executive has already revealed that he expects ten ARM-powered netbooks to launch in 2009, therefore the Computex launch fits in with this timescale. Others are likely to follow suit, we already know that Asustek is considering future Eee PCs equipped with the Qualcomm Snapdragon chip. MSI has also expressed interest in developing for the Nvidia Tegra system-on-chip platform too. Computex takes place between 2 – 6 June 2009.