March 16, 2009 at 12:55 pm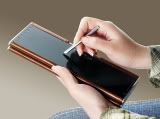 Lenovo seem to have confirmed the release of its 'Vaio P clone' which we reported on last week. Instead of the fuzzy spy-shot images from last week, Lenovo look to have released some teaser images pointing to a leather-clad netbook with form-factor similar to the Vaio P. The pictures also point to the system being dubbed as the 'Pocket Yoga' and one of the images tries to reinforce this point with the unit stuck in someone's jeans back-pocket.
Even more interestingly, it seems that it will be a touchscreen device with one of the images showing that the Pocket Yoga can be flipped around to be used as a tablet. One of the pictures shows that it comes with a belt that closes the yoga and also acts as a mouse! Hit the jump for lots more photos and details.
As with the Vaio P, there is only a trackpoint for control. Last weeks pictures seemed to show what was a small camera and other buttons on the side of the display. Specifications remain unknown however a Windows key can be seen on the keyboard.
Hopefully Lenovo will let us all know whether this is a concept or something set for mass production at some point soon. Lenovo has not confirmed the images so far nor have they made any further announcement. However last week a Lenovo rep said, "Our design labs in Beijing are constantly researching new innovations in design and functionality. Many of these will never reach commercial production. This concept is another demonstration of Lenovo seeking new innovative products to better address customer needs." We really hope this does become a reality as it looks like a very sexy device indeed.