March 17, 2009 at 1:24 pm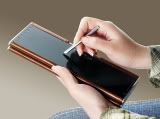 Lenovo has dashed the hopes of many by admitting that the Pocket Yoga pictures released yesterday were indeed a concept only with no plans for production, for now. It is difficult to understand why the pictures showed up on Lenovo's flickr stream yesterday, but whatever the reason, it seems that for now this will remain a concept only. This was confirmed straight from the Director of Lenovo's Beijing Innovation Center.
According to Li, Pocket Yoga was intended as a companion device that blurred the line between portable computing and the sort of accessories – wallet, diary, purse – users would conventionally carry with them. The almost-360 degree hinge allowed for multiple usage methods, from a tabletop or lap typing position, or – when fully rotated – a pad-style form factor more suited to standing or walking use, and which could be controlled with a touchscreen and pen.
Despite this fact, one can imagine a device like this appearing at some point, if not from Lenovo then from another competitor. Sony Vaio P's form factor is similar without the touchscreen so it cannot be ruled out in the future. However, given how everyone labelled this device as a Vaio P clone must irk the design team at Lenovo who came up with this concept two years ago, predating netbooks entirely.