March 24, 2009 at 11:06 pm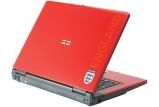 UK manufacturer, Hi-Grade, has kitted out a number of its netbooks & laptops in official England FA colours. For those patriotic England football (or soccer if you prefer) fans out there, the 10.2-inch Notino µL100E could be right up your street.
The Notino is powered by a Via C7-M 1.6GHz processor and 160GB hard disk drive. Battery life is rated at 2.5 hours, which doesn't seem good enough compared to its peers. Other features include three USB ports, Wi-Fi and a built-in card-reader.
This netbook is officially endorsed y the England Football Association which means that profits go straight to grass-roots football. Hi-Grade is selling the netbook for £315. Now unless anyone really does fancy having an England logo on the case, surely the Samsung NC10 would be a better bet. It offers a better battery life, it is regarded as one of the best netbooks in its range and is also £5 cheaper than the Notino. I know where my money would go, I'd even have some spare change to buy that England sticker to place on my netbook if I really wanted to!