March 24, 2009 at 1:31 pm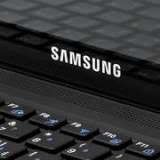 Following yesterday's launch of two 10-inch netbooks, the successor to the NC10 called the N110 and the colourful N310, Samsung has announced yet another model. To fill in the model numbering gap, Samsung has announced the 10.1-inch N120 netbook, which offers a full 12-inch size keyboard. Samsung claims that the keyboard will have optimised key spacing, which should place less strain on your wrists, fewer errors and faster typing speeds.
The N120 will also have a larger touchpad and an ultra-lightweight and robust slim line casing. Samsung claims that the N120 will have up to 10.5 hours of battery life with its 6-cell battery, which is more than the 9.3 hours quoted for the N110. The N120 is only marginally heavier than the N110 at 1.28kg (1.26kg for the N110). No idea on what will power the N120 although we know it will be an Intel Atom CPU of some kind.
Good news for music buffs, The N120 will feature an integrated SRS 2.1 sound system featuring 2 x 1.5 Watt stereo speakers with a dedicated sub-woofer. Other features include a 1.3MP webcam, 3-in-1 memory card reader, three built-in USB ports and optional Bluetooth 2.0+EDR.
Samsung expects that the N120 netbook will be available from April in Europe, Asia and the US. No pictures or pricing information has been released so far. As soon as we hear more we'll keep you updated.
Update: Pictures of the N120 are now available. A gallery has been posted here.