March 25, 2009 at 1:22 pm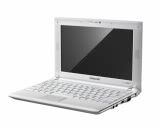 When we reported on the Samsung N120 yesterday we only had details on the netbook but no pictures. We now have a full gallery of pictures courtesy of Slashgear. The pictures show that it has a big bezel around the screen, not a surprise given the full 12-inch keyboard attached to this 10.1-inch display netbook. I suppose they did have to fit that stereo sound system, with dedicated subwoofer somewhere! The speakers are integrated on either side of the display.
The screen itself looks glossy rather than matte. Samsung expects that the N120 netbook will be available from April, no pricing has been revealed so far. Check out a full gallery of pictures after the break.