March 28, 2009 at 6:18 pm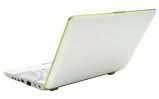 LG is pulling back from its laptop and netbook strategy as a result of the weak global economy and consumer demand according to Mobile Today. It will instead focus its efforts on the faster-growing smartphone segment in the short-term before returning to a 'full' netbook strategy in 2010. The manufacturer is expected to release smartphone devices later in 2009 that will be thinner, have better camera quality and memory, or will be more basic, to meet even lower prices.
As far as I'm concerned LG didn't really have a full netbook strategy to begin with. There is only one netbook model on the market currently, the X110, and the second, the X120, is due to appear in the next couple of months. The LG X120 does look like a smart bit of kit but with all of the competition in this particular segment, maybe LG did not want to suffer the margin hit just to compete. We do look forward to the arrival to the X120 netbook, however if this story is true it could be a while before we see another LG-branded netbook.