March 29, 2009 at 5:48 pm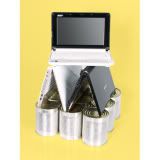 Netbooks with integrated 3G modules are generally very quick to broadcast their own signals and offer good signal strength according to a recent study by 'Connect' magazine. It studied three netbooks for wireless data transfer and by far the fastest was the Acer Aspire One A150x 3G that has an in-built Qualcomm module. The Acer was even faster than 3G phones that have been available over the last two years. Even the Samsung NP- NC10 3G and LG X110 came out with above-average performance compared to the 3G mobile phones.
With many mobile operators now offering netbooks as part of subsidised data packages, there will come a point that most netbooks will have the ability to access the internet in our view. Whether that means 3G modules will be included in most models from the start or we start to see the adoption of ARM based netbooks that are always connected to a 3G network, this can only be a good thing, giving more choice to consumers.