April 30, 2009 at 11:07 pm
While much of the talk surrounding Linux-based operating systems has been focused on Google Android, Symbian is looking to remind us that it could be a dark horse in the netbook OS wars. Both operating systems originated on smartphones and are now looking beyond handheld devices, to a raft of new consumer devices including netbooks.
Lee Williams, executive director of the Symbian Foundation, was at the Nokia Developer Summit on Tuesday and gave his views on what a Symbian-based netbook should look like. It was his blog entry recently that brought to light the work Symbian engineers had done in porting the Symbian OS to Intel's Atom CPU. Read more
April 30, 2009 at 10:15 pm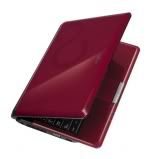 Fujitsu Siemens introduced a new 10.1-inch netbook to the Japanese market last week called the LOOX M. Judging from a press release by Fujitsu Asia Pacific, the same netbook will be marketed under the M2010 name across other regions. This would make sense as their previous netbook was known as the M1010 in most markets.
The M2010 specifications seem identical to the LOOX M, and it even sports the same infinity motif on the lid. The M2010 comes with a 10.1-inch LED-backlit display with a resolution of 1024 x 576 pixels. It will be powered by a 1.6GHz N270 Atom CPU (a 1.66GHz N280 Atom option will be available from June) and Intel 945GSE chipset. It will also come with 1GB RAM (2GB max) and a 160GB hard-disk drive. Other features include Bluetooth 2.1, a 1.3MP webcam, three USB slots and a 4-in-1 card reader. Read more
April 30, 2009 at 6:03 pm
We reported last week that Lenovo may be bringing its business oriented Thinkpad brand to netbooks. Well we have now some solid information to back that up, this time from Lenovo itself. A post on the Lenovo Blog, which dates back prior to last week's rumour, talks about the dilemma about bringing such a device to the market.
"Seriously, designing a netbook is a difficult task that is very different from designing a traditional ThinkPad. User experience items like keyboard stroke, overall layout, key spacing, palmrest size, and pointing device options are all instantly thrown under the development electron microscope for examination. Beyond the usability issues, we also have to balance the typical performance criteria such as weight, thickness, battery life, wireless technology, footprint and of course cost," says David Hill from Lenovo. Read more
April 30, 2009 at 3:19 pm
Asustek reported its first quarter results today and some interesting news came out from the investor conference. According to Asus CEO, Jerry Shen, it will continue to use Microsoft Windows in its Eee PC netbook line in 2009. The CEO also confirmed that there are no plans to adopt ARM-based processors for its netbooks this year.
"Windows is what most consumers are used to," said Shen. He then went on to say that the first quarter of 2010 will provide "more of an opportunity" for rival operating software as well as alternative processors. Read more
April 30, 2009 at 2:35 pm
Two of the biggest names in the netbook arena, Asustek and Microstar International (MSI), have no plans to launch products based on the Nvidia Ion platform according to Fudzilla. Its sources suggest that ION-based netbooks from these two manufacturers are not even on the agenda.
The report goes on to say that neither company wants to upset their relationship with Intel by choosing to adopt Nvidia's platform. Another reason is that they do not want to cannibalise sales of their current nettops in the market.
We are expecting a number of "key" players to announce Ion-powered netbooks at Computex Taipei in June. If this news is true, then unfortunately MSI and Asus will not be on that list. MSI may be focusing on a rumoured Android netbook that it is supposed to be announced at the show instead.
April 30, 2009 at 12:50 pm
Century has launched a Netbook Stand cooler that comes with a built-in DVD Drive an empty 2.5-inch SATA HDD bay (if your netbook doesn't have enough storage) as well as an additional USB hub with two USB ports.
The stand connects to the netbook via an USB cable and is powered by an AC adaptor. The Panasonic multi drive is compatible with Windows XP and Vista only and supports DVD±R/+RW (8x), DVD±R DL/-RW (6x), DVD-RAM (5x) and CD-R/-RW (24x).
The size of the Netbook Stand measures 260 x 19 x 190 mm and weighs 524g, but given the tech inside, that's probably reasonable. It only seems to be available in Japan right now and comes in black and white colours. The Century Netbook Stand retails for 9,980 Yen ($102 / €77 / £69).
Via Akihabara News.
April 30, 2009 at 12:25 pm
In this technology driven world we live in, gaining computer skills at a young age is becoming more and more important. Whilst Intel would have you believe that netbooks may that ideal secondary computer for the kids, many of them are not kid-proof. To answer this problem, PeeWee PC has announced the Pivot Tablet Laptop targeted directly to kids.
The Pivot Tablet is aimed at kids aged between 3 and 10. According to PeeWee, the tablet is "durable, drop and spill resistant construction with a sturdy plastic case", so it should have no problems in taking some serious abuse. The laptop comes with a Walt Disney Windows XP Theme, ten different kiddie software programs as well as games suitable for pre-school to elementary school-aged children. Security is also of the utmost importance, giving parents control over how the PC is used, how long kids can browse the Internet and what sites can be viewed. Read more
April 29, 2009 at 6:51 pm

Whilst netbooks are not the most powerful devices around, one area in which they fall particularly short is the graphics side. GMABooster, a free application, sets to address that issue by providing a small boost to netbook graphics.
The majority of netbooks out there run on the Intel 945GM/GME/GMS/GSE chipset which all feature the same GMA 950 graphics. However, the graphics part is underclocked to help improve battery life. What GMABooster does is to bring the graphics clock rate from a lowly 133/166MHz up to a faster 400MHz.
Don't be afraid of damaging your netbook, the app doesn't overclock the chipset as all that it does is boost the clock speeds to its normal level. The tests run by UMPC Portal showed that it boosted the graphics element by over 20 percent in its synthetic benchmark tests. I'm not sure whether this will translate into real world results, but you can try it for yourself here. I imagine that an increase in performance is likely to impact on battery life as well as heat output, so this is worth considering.
April 29, 2009 at 6:23 pm
Acer reported its first quarter results today and it didn't make for pretty reading. The global recession led to profits slumping by almost a third to NT$2.0 billion ($60 million). Acer's popular netbooks helped to shore the company's results in the first quarter as consumers reined in spending amid a global recession. "Consumers are so picky, they don't want to spend one dollar more than they really need," says Acer chairman J.T. Wang.
Despite the resilient netbook segment, Acer lowered its netbook shipment forecast for 2009. It now expects to ship 10 million-12 million netbook PCs this year, compared with its previous forecast of 12 million-15 million. JT Wang says that he expects overall global netbook shipments to reach 50 million units in 2010. Read more
April 29, 2009 at 4:14 pm
Nvidia held a press conference in Taipei yesterday to unveil two nettops based on the Ion platform, the ASRock ION 330 and Pegatron's Cape 7. Interestingly, during the conference, Nvidia claimed that over 40 Ion-powered netbooks, nettops and all-in-One PCs are scheduled to launch by the end of this year.
Whilst the number of nettops powered by Nvidia's Ion platform is growing all the time, we have yet to see it being utilised by netbooks. Hopefully it won't be long before Ion-powered netbooks are revealed, the latest rumours point to a number of manufacturers releasing Ion netbooks at the Computex show in June. Read more
April 29, 2009 at 3:38 pm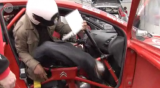 We have seen a number of different wacky (and pointless) challenges in the past, but this one was too fun to pass up. Crave's Rory Reid set about to create the ultimate typing challenge, pitting Apple's iPhone against an Asus Eee PC netbook. Rather than anything sedate however, this challenge was set to the extreme.
Rory was seated alongside 14-time European Rallycross champion Kenneth Hansen. He had to type 'The quick brown fox jumps over the lazy dog' as best he could whilst hurtling around the Lydden race track in Dover in a £1m rally car. The car does 0-60mph in an astonishing 2.39 seconds whilst taking corners at 80mph.
The netbook has a full QWERTY keyboard, but the iPhone has a touchscreen with auto-correct feature. Click through for the full video and the winner. The result may surprise you (it did us). Read more
April 28, 2009 at 10:57 pm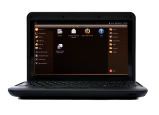 System76 may not be a household brand name, but it is one that is synonymous with Linux enthusiasts. The company provides laptops, desktops and servers pre-installed with Linux Ubuntu. System76 has now introduced the Starling netbook which comes preloaded with Ubuntu's 9.04 Netbook Remix.
You'll find typical netbook specifications powering the Starling. It features a 10.1-inch (1024 x 576) LED backlit glossy display. It is powered by a 1.6GHz N270 Atom CPU and comes with Intel 950 graphics. The netbook comes with 1GB of RAM and a 160GB hard-disk drive. Other features include Wi-Fi (b/g), a 0.3MP webcam, three USB ports and 6-cell battery.
The Starling netbook weighs a reasonable 1.2kg (2.6lbs) and has dimensions of 10.4″ x 7.1″ x 1.3″ (WxDxH). The Starling is now on sale on System76's website in the US for $359. This is $10 more expensive than the MSI Wind U123 that is currently up for pre-order in the US and also comes with a 6-cell battery.
Via WorksWithU [via Portable Monkey].
April 28, 2009 at 10:28 pm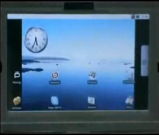 Skytone recently announced the first Android netbook, the Alpha 680, which is expected to be released in the summer for approximately $250. We now have a video hands on of the 7-inch convertible tablet, which shows the Android OS in action.
Obviously, Android is at the early stages in being ported from smartphones to netbooks. This shows in the video, in what is frankly a disappointing demonstration. The applications seems to run relatively smoothly, however each app seems to take the full screen which means only one application can run at once. It seems that the phone OS was just plugged into the larger 7-inch display, as the buttons and icons look huge.
As we discussed recently, ARM chips have limited flash video support right now. Therefore it is not surprising to see Android unable to support Flash. At the $250 price point, the Skytone Alpha 680 will have to do more to entice customers to part with their cash. Check out the videos after the break. Read more
April 28, 2009 at 7:39 pm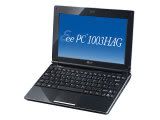 Asus has announced a new netbook, the 1003HAG, specifically for the Japanese market. The 1003HAG has an internal 3G module and supports NTT DoCoMo's FOMA network with 7.2Mbps speeds. Judging by the pictures, the 1003HAG looks very similar to the slim Eee PC 1002HA but with a chiclet keyboard.
Apart from that you'll find a 10.2-inch (1024 x 600) display powered by a 1.66GHz N280 Atom CPU. It will come with 1GB of RAM and a 160GB hard-disk drive. Other features include Wi-Fi (b/g/n), Bluetooth 2.1+EDR. Asus claims that battery life will last 4.3 hours. Read more
April 28, 2009 at 7:12 pm
Whilst Averatec are not the most well known brand when it comes to netbooks, this may be set to change with its next model. Averatec is set to launch a new netbook due in August or September which looks like a cross between Sony's Vaio P and Lenovo's Pocket Yoga concept and is rumoured to run Google's Android OS.
US-based Averatec is owned by a Korean company called TriGem. CEO Tae-Hyun "Tiger" Cho claims that this new device has been developed in-house "from scratch". Whilst the operating system has not been confirmed, Cho said that the "OS is going to be a surprise," however he also confirmed that it will be "a merger of cell phone and PC technology." It doesn't take a genius to work out that Google's Android is likely to be the front runner (unless Symbian is making moves behind the scene). Read more