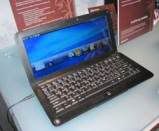 A prototype from Wistron dubbed the PBook has been spotted at CTIA. We recently reported on the Wistron 'FirstBook' that was spotted at MWC earlier this year. It seems that the device has undergone a name change since then as the PBook looks like exactly the same device. It has a form-factor similar to that of the Sony Vaio P and is powered by Qualcomm's Snapdragon platform.
This particular unit had a red lid, housing a 12-inch display and a full-sized keyboard. Laptop Mag reports that it was running a 1GHz CPU with battery life lasting between 8 to 10 hours. Interestingly, it also features hardware accelerated 3D graphics from ATi. There is also an optical mouse besides two mouse buttons.
As with most ARM-based processors, the unit is designed for 24/7 wireless connectivity via mobile broadband, WiFi and Bluetooth. Given that ARM-processors cannot use Windows XP/Vista, you are limited to Linux, however the icon-based user interface seemed fairly intuitive. Apparently the PBook will also support Android and Windows Mobile in the future.
Wistron expects that we could see this unique netbook appear on retail shelves by the third quarter this year. In the meantime, we know that a Wistron netbook with Qualcomm Snapdragon CPU is due to appear at Computex Taipei in June, so hopefully there will be further details then. Click though for a full PBook photo gallery.