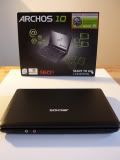 The Archos 10 is, unsurprisingly, a 10-inch (1024 x 600) netbook. It is the first netbook from Archos who traditionally make PMP products. The Archos 10 is actually a rebranded a Hasee MJ125 netbook. NetbookNews.de got hands on and posted a very thorough unboxing of the netbook (spanning three pages!) As well as going through every perceivable angle of the Archos 10 they also compare it to the Asus Eee PC 1000HE and Dell Mini 10.
In our view the styling is slightly uninspired and the specs are similarly 'standard'. The unit is powered by a 1.6GHz Intel Atom N270 CPU and 1GB RAM. It also supports a 160GB hard disk, a 1.3MP webcam and integrated Wi-Fi.
The Archos 10 suggested retail price in the UK is £349, which is not good value for money in our opinion. It comes with a rather weak 2200 mAh 3-cell battery and given the Asus 1000HE can be had for a similar price, it is hard to understand who would choose the Archos over the Asus.