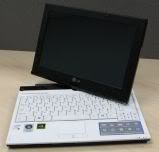 Whilst the netbook form-factor has been a phenomenal success since its launch in 2007, we have not seen too many netbook convertible tablets (or net tablets if you prefer). From Asus, we are looking forward to the T91 and T101 and Gigabyte will soon be launching its TouchNote T1028. However, apart from that there doesn't seem to be any forthcoming net tablets. However, with the advent of multi-touch panels in the second half of the year as well as the launch of Windows 7, the net tablet is really set to take off in 2010 in our opinion.
LG may be the next vendor to throw its hat in the net tablet ring according to a patent filed by LG last November and published last week. The patent entitled "Convertible Computer," highlights the use of two operating systems – one for use in normal netbook mode and the other when used in tablet mode. The patent describes a device with a full-sized keyboard, stick pointer and touchpad. Electronic Pulp who discovered this patent, say that there is nothing in this patent that says this will be a netbook, but it is likely to follow the LG X110/X120.
LG have played in this arena before. Back in April 2007, before the netbook craze took off, LG launched the 10.6-inch C1 Express Tablet PC Convertible notebook. It was powered by a 1.2GHz Intel Core Duo CPU and had a 80GB HDD, 1GB RAM, 802.11a/b/g Wi-Fi, Nvidia GeForce Go 7300 graphics, Bluetooth and a 6-cell battery. Maybe this new convertible tablet is a re-working of the C1 Express. The old model certainly looked similar to the Asus Eee PC T91 and shows just how ahead of its time it was. If the price was right LG could be onto a winner, if it ever becomes a reality.