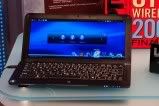 Yesterday, we reported that the Wistron Pbook had made an appearance at CTIA. Today, Engadget was given a demo of the Pursebook (I'm assuming it is the same device as the PBook) from which we have learnt some new details.
The Pursebook is powered by a 1GHz-equivalent Snapdragon CPU and comes with integrated graphics. The chipset includes integrated 3G and GPS which means an always-on environment and longer-lasting battery. They are looking to create a Smartphone-like experience with the Pursebook, it is very light coming in at 800g. Despite the size, battery life is rated at around 8 hours.
The unit was being tested with a Linux framework from Thundersoft, another prototype unit is also using Xandros (which is found on some Asus Eee PC models). Windows CE is also an option but it sounded like this hasn't been tested with the prototype so far. The keyboard was full size and they opted for a larger screen mainly due to the multimedia functionality. The price point is estimated to be somewhere between $299 and $499 on release in Q3 2009. Check out the video after the jump.