April 11, 2009 at 3:11 pm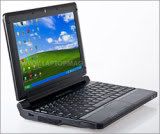 The 10.1-inch OCZ Neutrino netbook is a dream for tech enthusiasts as it has been designed to allow customers to source their own components. For the Neutrino this means sourcing RAM (up to 2GB), a hard-drive (SSD/HDD up to 250GB) and operating system. As well as keeping costs low, it allows you to build a netbook to your own specifications. It is a shame they haven't provided access to the CPU which is available on OCZs larger notebooks.
Laptop Mag has taken the Neutrino through its paces and felt that whilst the overall platform was inexpensive it was still let down by a poor touchpad and short battery life. However, the latter is likely to be a short-term issue as a 6-cell battery is due in May. The 'core' specifications include a 10.1-inch (1024 x 600) LED backlit display powered by a 1.6GHz N270 Atom CPU and 945GSE Intel chipset. It comes with a 4-cell 2200mAh battery, 1.3MP webcam and WiFi (b/g only).
We have attached the key points of the review after the break. What we would point out is to take the performance statistics with a pinch of salt, the results may differ depending on the hardware installed. The OCZ Neutrino costs $269 in the US, we don't have confirmation of UK/European pricing at this time.
Key points from the OCZ Neutrino review:
Design is functional but not desirable. The lid is a fingerprint magnet.
Compact design at 10.4 x 7.3 inches and tapering from 1.1 to 0.8 inches thick. When fitted with all components it weighs around 1.4kg (3lbs).
Installing components is easy as the bottom cover can easily be removed by the six screws holding it in place. Installing the software took the most time, around two hours to get everything loaded onto the machine.
10-inch (1024×600) LED-backlit matte display was bright and crisp. It has good horizontal and vertical viewing angles.
Four-cell 2200-mAh battery lasted 2 hours and 28 minutes (continuous Web surfing over Wi-Fi). This is 18 minutes shorter than the average for netbooks with batteries smaller than six cells.
Keyboard offered springy feedback and the right shift key is large. Overall good, spacious keyboard.
Trackpad is quite small and does not support multitouch gestures.
PCMark05 result was 1,551, about 200 points higher than the netbook average. Neutrino's integrated Intel GMA 950 graphics scored 689 on 3DMark03 which is 69 lower than the respective average.
Handled 720p video playback smoothly but 1080p video constantly stuttered.
System stayed cool under use. The keyboard, touchpad, and underside never exceeded 95 degrees Fahrenheit.