April 16, 2009 at 2:06 pm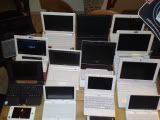 Shipments of PCs fell by 7.1 percent in the first quarter, with only heavy discounts and the popularity of netbooks keeping the results from being worse. It is quite clear to see that the global recession has seen a shift towards low-cost computing, the main beneficiary being netbooks. It is this segment that has kept PC shipments from falling further. According to IDC, netbook shipments are on track to double in 2009.
One sign that green shoots may be appearing is that for the first time in recent memory, the US PC market fared better than the rest of the world. Shipments fell by just 3.1% percent in the US according to figures from IDC. "The US was surprisingly strong, it outperformed our forecast," says IDC vice president Bob O'Donnell. "The fact that the US outperformed the worldwide totals is I think somewhat hopeful."
At the same time, Hewlett-Packard knocked Dell out of the No. 1 spot in the U.S. PC market. IDC writes that record-low prices and the steady penetration of netbooks helped drive PC shipments, with HP and Acer leading the charge. HP's market share grew by 2.9 percent from the first quarter of 2008 to the first quarter of 2009. Acer saw a growth of 6.8 percent in the same period, and Toshiba, though in fifth place, boosted market share 11.6 percent in that period.
It estimated the total global PC market in 2008 was worth $243 billion, with IDC predicting more stable production over the coming quarters, with growth returning around the end of the year.