April 18, 2009 at 1:12 pm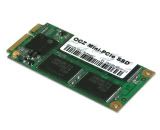 OCZ has unveiled its first range of mini PCI-Express Solid State Drives targeted to increase the capacity for netbooks. OCZ is a respected hardware enthusiast brand whose main focus has been memory components. However, it recently announced its first netbook, the 10-inch OCZ Neutrino DIY.
Solid State Drives offer a quieter, cooler and more durable alternative to traditional hard-disk drives. Battery lives are also extended due to lower power consumption and improved access times. They are ideal for netbooks in that they are much more shock resistant compared to normal drives, especially considering a netbook is likely to get knocked around on the move.
The drives will come in both 16GB and 32GB storage options and will be backed by a two year warranty. They will also be available in both SATA and PATA interfaces. As you would expect, the SATA version is faster delivering a 110 MB/s read and 51 MB/s write speed. This compares to a maximum 45MB/sec read and 35MB/sec write speed on the PATA interface. Pricing has not been confirmed thus far.