April 21, 2009 at 8:50 am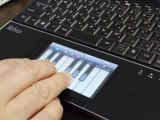 Sharp has introduced a new netbook this morning, the 10.1-inch Mebius PC-NJ70A. When a teaser was posted on its website last week, we speculated that the netbook may feature some kind of touch element. Right on cue, Sharp has done exactly that, but not in the way I was envisaging. The Mebius PC-NJ70A is the first netbook to feature a second LCD display with resolution of 854 x 480 pixels that doubles up as a touchpad.
This 4-inch LCD (with LED-backlight) works with both a stylus as well as a finger. Sharp has developed a number of applications with this sensor, including handwriting recognition, playing a virtual piano, a bowling game as well as a number of imaging editing uses. The touchpad also features an optical sensor that can automatically adjust brightness based on the ambient light. It's a remarkable design and I can't say I've seen this in any kind of retail netbook/notebook/laptop before (please let me know if I'm wrong!)
Moving beyond the unique touchpad, the rest of the specifications are fairly standard. The Mebius PC-NJ70A comes with a 10.1-inch (1024 x 600) display powered by a 1.6GHz N270 Atom CPU and 945GSE chipset. It also comes with 1GB RAM and a 160GB hard-disk drive. Other features include Wi-Fi (b/g), Bluetooth 2.1, three USB ports, D-sub connector, audio jacks and a multi-card reader.
The netbook uses a normal keyboard which appears to be a decent size stretching out to the edge of the chassis. Just to confirm, the touchpad isn't entirely touch only. Sharp has placed three physical buttons below this small LCD. The design itself seems to be quite nice with a glossy display for the main LCD. It is also not the slimmest or lightest netbook you'll find on the market. It weighs 1.46kg and at its largest point is 40mm thick (dimensions: 260x190x23.3-39.8mm).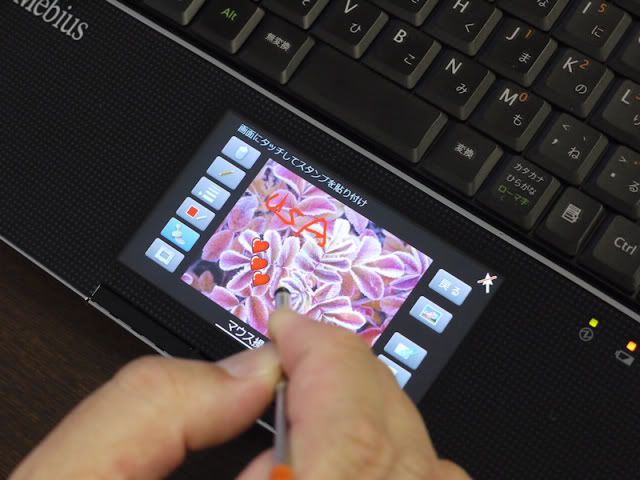 Given the extra power required for the second LCD display, battery life is touted to last 3 hours which is not too bad all things considering. As you would expect, the Mebius PC-NJ70A netbook doesn't come cheap with pricing expected to be around 80,000 Yen ($815/£565/€630). No word so far on whether we will see this appear outside of Japan. As well as the pictures here, it is well worth checking out a number of hands-on pictures from Akhibara News too.
Video of the Mebius PC-NJ70A in action:

More photos: