April 25, 2009 at 8:43 am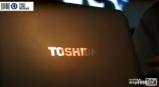 The Toshiba NB200 netbook was showcased at a London launch event this week. The NB200 is the 10.1-inch successor to Toshiba's NB100 which came with an 8.9-inch display. It looks like the NB200 will create bigger waves than the NB100 due to a promised 9 hour battery life with the 6-cell battery as well as stylish design which includes a chiclet keyboard.
MegaWhat.TV was at the launch event to give their initial impressions and seemed to like the device, especially the textured lid. The 6-cell battery did seem to stick out, rather than being flush with the unit. It will be a trade off worth making as the 3-cell battery will only be good for 4 hours according to the company.
There will be a number of configurations, enabling you to choose between a N270 or N280 Atom processor. Both configurations will come with the Intel 945GSE chipset. The snazzy tiling effect on the case lid will still be there as will the 160GB hard drive , Wi-Fi (b/g), Bluetooth and 0.3MP webcam. The NB200 will come in four different shades of brown, black, white and pink. It is due to ship in May with prices starting from £319 which includes the 3-cell battery or £369 which includes the 6-cell battery.
Via NetbookNews.de.