April 28, 2009 at 10:57 pm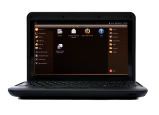 System76 may not be a household brand name, but it is one that is synonymous with Linux enthusiasts. The company provides laptops, desktops and servers pre-installed with Linux Ubuntu. System76 has now introduced the Starling netbook which comes preloaded with Ubuntu's 9.04 Netbook Remix.
You'll find typical netbook specifications powering the Starling. It features a 10.1-inch (1024 x 576) LED backlit glossy display. It is powered by a 1.6GHz N270 Atom CPU and comes with Intel 950 graphics. The netbook comes with 1GB of RAM and a 160GB hard-disk drive. Other features include Wi-Fi (b/g), a 0.3MP webcam, three USB ports and 6-cell battery.
The Starling netbook weighs a reasonable 1.2kg (2.6lbs) and has dimensions of 10.4″ x 7.1″ x 1.3″ (WxDxH). The Starling is now on sale on System76's website in the US for $359. This is $10 more expensive than the MSI Wind U123 that is currently up for pre-order in the US and also comes with a 6-cell battery.
Via WorksWithU [via Portable Monkey].