April 28, 2009 at 10:28 pm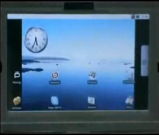 Skytone recently announced the first Android netbook, the Alpha 680, which is expected to be released in the summer for approximately $250. We now have a video hands on of the 7-inch convertible tablet, which shows the Android OS in action.
Obviously, Android is at the early stages in being ported from smartphones to netbooks. This shows in the video, in what is frankly a disappointing demonstration. The applications seems to run relatively smoothly, however each app seems to take the full screen which means only one application can run at once. It seems that the phone OS was just plugged into the larger 7-inch display, as the buttons and icons look huge.
As we discussed recently, ARM chips have limited flash video support right now. Therefore it is not surprising to see Android unable to support Flash. At the $250 price point, the Skytone Alpha 680 will have to do more to entice customers to part with their cash. Check out the videos after the break.