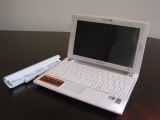 The Samsung N120 netbook dropped through our letterbox this morning and we thought we'd share our unboxing of Samsung's latest netbook addition. We have a white N120 to put through its paces and initial impressions are certainly favourable.
As a quick recap, the Samsung N120 is one of the first netbooks to feature a full sized keyboard into a 10-inch netbook. Whilst this means you have a thick bezel around the screen, it doesn't look too bad in the flesh. The speakers mounted either side of the screen go some way to making it less of an issue. Initial impressions on the keyboard itself are positive, it feels natural to type on and all of the buttons are in the right places. It's not a chiclet keyboard, but that doesn't mean it's any less comfortable to type on.
I also like the matte effect on the chassis, it means the lid is not prone to fingerprints like some netbook models are. The other big selling point for the N120 is the 2.1 speaker system, we haven't had a chance to test this yet, as the N120 is being charged as we speak. We will come back with a full review once we've put the Samsung N120 through some extensive testing. As always, if there are any questions you'd like answered, feel free to ask away in the comments section and we'll do our best to answer them. Click through for the unboxing photos.