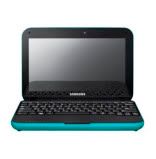 Whilst the specifications of Samsung's N310 netbook are average the same certainly can't be said of its design. In a departure from normal netbook aesthetics, Samsung enlisted the help of leading designer Naoto Fukasawa to create something unique. He definitely came up trumps, creating a look that has split opinion down the middle as to whether one finds it attractive or not.
The Samsung N310 netbook comes with a textured rubber casing and with a large embossed Samsung logo on the lid. It also comes with a 93 percent chiclet keyboard and a frameless 10-inch LED backlit display.
A number of UK retailers now have the Samsung N310 in stock, ready to ship. Prices vary between £382.26 from CCL Online to the official RRP of £399.99 (Amazon, Dabs, Laptops Direct). It will be interesting to see how popular the N310 becomes. Personally, I think it could become a big seller for Samsung. Most netbooks out there look very similar, by creating something very different, it should have a sizeable market willing to pay a premium for its unique looks.
Via SammyNetbook.