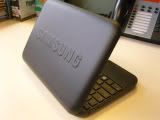 What Laptop has come out with the first review of Samsung's N310 netbook. Whilst they lauded the netbooks unique design, they felt it didn't quite sit right when looking at its price/performance ratio. At 1.2kg, portability was distinctly average, but what really hindered the overall proposition was a battery life lasting just 2 hours and 28 minutes.
Given the emphasis on battery life by most manufacturers nowadays this just doesn't cut the mustard. Judging by today's earlier Asus Eee PC 10008HA reviews, performance doesn't have to be sacrificed for a sexy design. The review doesn't state what conditions this battery life was achieved so we'll reserve judgement until we get a chance to test the 4-cell 4400mAh lithium ion battery ourselves.
On the more positive side, they loved the pebble (chiclet) keyboard, with decent spacing between keys and a comfortable typing experience. Overall they rated the Samsung N310 7/10. Check out a summary of the review after the jump.
Key points from What Laptop review:
The 10.1-inch screen is detailed and provides bright and defined colours. The frameless display looks great but means there's little protection for it.
The chassis is constructed from a rugged plastic, providing good protection.
The best feature is its pebble keyboard. The keys are hard to miss-hit, and they're also nicely spread out.
Performance is enough to run several applications at once with very little lag. An integrated Intel GMA 950 GPU powers the machine's graphical capabilities.
Portability is average at 1.2kg in weight.
Battery life is a mere 148 minutes. This lags well behind other netbooks.
Extras include three USB ports, an SD card slot, 802.11g Wi-Fi, a VGA out and finally an integrated camera for video conferencing across the web.