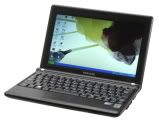 Whilst the Samsung N110 is still not available to pre-order in any of the main UK retailers, we may be one step closer, after the product page has now appeared on the official Samsung UK website. It's strange that whilst both Samsung's N120 and N310 netbooks have already hit UK retail, both of those product pages are still not up, yet the N110 netbook is, which isn't available.
We have also now learned that the Samsung N110's suggested retail price in the UK will be £349. Obviously, retailers will price this down slightly on release, but consumers need to consider whether the refresh is worth spending nearly £50 extra over the NC10, which retails for just over £300 on Amazon
. We'll keep you informed as soon as we have any details on the N110 release date.