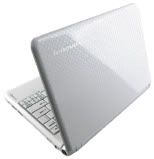 Lenovo has today officially launched the 10-inch Ideapad S10-2 netbook. It was a matter of time before the model was officially confirmed as the manual for the Ideapad S10-2 appeared on Lenovo's site last week. The Ideapad S10-2 netbook is a refresh of the existing Ideapad S10 that is thinner and lighter than the original and comes with a larger touchpad and keyboard, a fancy new lid design and optional integrated 3G.
The 10.1-inch display is now glossy and has a 1024×600 resolution. The keyboard has been expanded to 89 percent that of a full size laptop and now has a larger Shift Key. All models of the S10-2 will ship with Lenovo's QuickStart instant-on operating system and its VeriFace facial recognition software. The new Ideapad S10-2 weighs just 1kg (2.2lbs).
Otherwise, the specifications are the same, with the S10-2 powered by a 1.6GHz N270 Atom CPU, 1GB RAM and a 160GB HDD. Other features include Wi-Fi (b/g), a 1.3MP webcam and a 6-cell battery that should last for six hours. Whilst the changes are welcome, it is a shame that Lenovo didn't upgrade the CPU.
The S10-2 will come in four colours (white, black, pink and gray) with a textured design on the glossy lid. The Ideapad S10-2 will be available in the next few days and will cost $349.99 with the 3G version costing an extra $50 at $399.99.