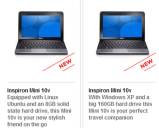 Normally it takes a while for items that appear on the Dell US site to make on appearance here in the UK, for example we are still waiting for the 6-cell battery for the Mini 10. Anyway, Dell hasn't messed around with the Mini 10v, as we have just noticed that it has made an appearance on the UK site.
Two models are available. One that comes with Linux Ubuntu along with an 8GB SSD is priced from £199 whilst the Windows version with a 160GB HDD starts from £279. Given that the US price for this latter package is just $299, UK pricing has not worked out in our favour which is hardly surprising. Taking the current exchange rate and adding in 15 percent VAT should give a price of around £225.
Both models are available to order now, although I couldn't find an estimated shipping date. These models have also hit Europe at a cost of €249 for the Linux version and €379 for the Windows version.