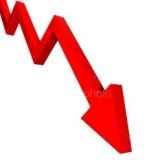 Shipments of Intel Atom CPUs declined by 33 percent in Q1 2009 compared to the previous quarter according to IDC. Before some say that the netbook gravy train may be over, IDC suggests that the reason for the decline is that netbook manufacturers had built up significant inventory of Atom chips during the end of the year. IDC claims that during the first quarter, they were starting to burn through this excess inventory.
To give an indication as to why Intel is looking to concentrate on higher-priced CULV-based chips than Atom, IDC said that whilst Atom shipments represented 21 percent of total shipments, this translated to just 6.5 percent of revenues in the first quarter.
This Atom decline is not new news. A month ago Intel reported its Q1 results and said that Intel Atom CPU revenues were down by 27 percent (broadly in line with the shipment trend above). He also blamed the decline on an excess build-up of inventory. My feeling is that many vendors are looking for the next leap in netbook technology before committing to orderbooks. Whether this comes in the guise of Nvidia's Ion platform is yet to be seen. The GN40 chipset was widely expected to feature in more netbooks, but Intel looks to be phasing that chip out.
Worldwide PC CPU shipments dipped as a whole between Q4 2008 and Q1 2009, down by 10.9 percent following a dip between Q3 and Q4 2008 of 17 percent. Intel's market share fell 4.7 percentage points to 77.3 per cent in Q1, while AMD's went up by almost the same margin, to 22.3 per cent.
"The PC processor market continued to reflect significant decline in end demand for most of 1Q09," said Shane Rau, director of Semiconductors: Personal Computing research at IDC. "However, some inventory replenishment by OEMs at the end of the quarter helped to slow the decline and bring the quarter in at a level only slightly worse than typical seasonal decline."