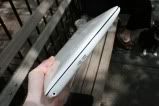 Whilst here in the UK we are looking forward to the Asus Eee PC 1008HA launching tomorrow, details on the US launch have been very quiet up until now. Asus has now officially confirmed that that the 1008HA Seashell will launch for $429 when it hits the US later this month, with pre-orders starting on 18th May.
The specifications should be familiar to most by now. The 10-inch (1024 x 600) Seashell is set to become one of the most desirable netbooks on its release with its 1-inch thickness and 1.1kg weight. The specs aren't too shabby either, with a 1.66GHz N280 CPU, 1GB RAM and 160GB HDD and wireless draft n. Asus claims that its in-built battery should last for around 6 hours.
A few sites including Gizmodo, Laptop Mag and PC World have some hands-on impressions that are worth checking out. It will launch here in the UK tomorrow for £379 and in Europe for €399.