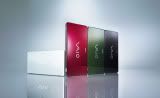 Our friends over at Notebook Italia have spotted some new Sony Vaio P models that could end up replacing the current line up. A refresh of the current Vaio P series has been rumoured for some time. As recently as March there was speculation that the top of the line Vaio P (VGN-P90S), which is only available in Japan, would have its CPU bumped up from the 1.86GHz Z540 Atom CPU to the newly announced 2.0GHz Z550 Atom processor.
The highest spec Vaio P currently availability in Europe is the Vaio P19VN/Q, which has a 1.6GHz Z530 Atom CPU. Notebook Italia has spotted a retail product listing that suggests that the replacement for this model, the Sony Vaio VGN-P29VN/Q, will sport an as-yet-unannounced Z630 Atom CPU. This new model will have a 128GB SSD drive, 2GB of RAM, the new 'Poulsbo' US15W chipset and Intel GMA 500 graphics.
Another listing also shows that the current base models (Vaio P11Z) will be replaced by the Vaio P21Z. The first two models, the Sony Vaio VGN-P21Z/W and Vaio VGN-P21Z/Q, which come in Ivory White and Ebony Black respectively, will come with a 1.33GHz Z520 CPU, 2GB RAM and a 80GB HDD.
We have heard no rumours of the Z630 Atom processor, but that doesn't mean Intel is not planning new CPUs. We can only guess for now whether this is a misprint or whether there is some truth in it. The model name would seem to fit the current Atom series and this could be a faster CPU than the previous iteration. However, it may also indicate a dual core Atom processor is on the horizon. Either way, we excitedly look forward to some official news on the Vaio P2 soon.
Thanks Marco!