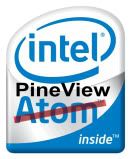 Intel held a teleconference today to outline some details on the next-generation netbook platform dubbed 'Pine Trail'. This platform will consist of just two chips, a processor and an input/output (I/O) chip. This compares to the three chips that currently constitute the Atom platform (processor + I/O + chipset (memory controller/graphics)).
The Pine Trail platform will see both the memory controller and GPU move into the next-gen Pineview CPU. Currently both of these parts reside in the 945GSE chipset on the Atom platform. The benefits of moving from 3 chips to 2 chips is power efficiency, lower costs and better performance.
According to Noury Al-Khaledy, general manager of the Netbook and Nettop Computing unit at Intel, the new chips will be faster, cheaper, and smaller, resulting in netbooks that are more like real laptops in performance.
Further details of these new processors are expected in June, probably at the Computex show from June 2-6. Pineview, the second generation of Atom processor, is expected to ship in the last quarter of 2009.