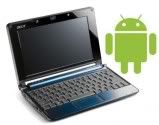 It was not too long ago that Acer CEO Gianfranco Lanci was talking about it being "too early to say if we're going to see Android on a netbook in the near future." However, Acer has now confirmed that we will see an Acer netbook running on the Android operating system by the third quarter this year.
"Today's netbooks are not close to perfection at all. In two years, it will all be very different," said Jim Wong, Acer's global president for IT products, at a Computex news conference. "If we do not continue to change our mobile Internet devices, consumers may not choose then any more."
Interestingly, these Android netbook will continue to use the Intel Atom CPU under the hood, rather than opting for an ARM-based processor. Despite the move into Android, Acer confirmed that it would continue to also ship netbooks running on Windows.
"When we are doing this new Android netbook, we are not going to make the other one go away," Wong said. "Both systems will still remain available to customers, and one will not go away because of the other."
It will be interesting to see how the Android OS is adapted for a netbook experience. There are already some very good Linux-based operating systems targeted to netbooks and it will be interesting to see whether Android can keep up with the competition or even take things a step further. No prices or shipment targets for these new netbooks were given.