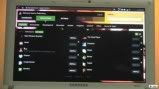 There are a number of Linux-based operating systems that are being tailored for the netbook experience. Ubuntu Netbook Remix 9.04 and Moblin have recently shown off their OS', and it looks like Jolicloud will be just as impressive, if this video demonstration by NetbookNews is anything to go by. Jolicloud is based on Ubuntu with touted faster boot times and improved internet surfing.
As you can tell by the 'cloud' part of the name, Jolicloud has been customised for cloud computing, to get Jolicloud you must register for an account. The bulk of Jolicloud is run from the Internet, rather than being installed locally on your netbook. The creators describe it as a 'Social OS'. This means that it has support for services like Facebook, Twitter and Skype built-in. Any updates are seen on the front page of the OS screen.
The new Jolicloud website and private Alpha should be launching very soon, so keep your eyes peeled if you want to try it yourself. Check out the video after the jump.