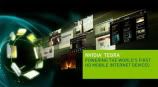 Nvidia is out in full force at the Computex show in Taiwan. We have already seen it outing 21 devices based on the ION-platform. However, it has also revealed 12 new devices (mostly Mobile Internet Devices) based on the Tegra platform. The Tegra platform is different to ION in that it pairs an ARM-based processor with an Nvidia GeForce GPU (ION pairs an Intel Atom CPU with the Nvidia 9400M graphics).
Nvidia claims that the Tegra processor is the "world's smallest and lowest power computer-on-a-chip". The chip will be able to handle 1080p video and will come with a massive battery life. Nvidia claim that it can handle 10 hours of 1080p video playback on a single charge – that is a frankly astonishing claim!
It will also come with Flash GPU-acceleration, which means that the likes of YouTube and Hulu will be no problem. The chip will include 3G and Wi-Fi support and will effectively be 'always-on' to the internet. These chips will be found in both tablet and netbook type devices and are expected to launch by the end of 2009 with prices around the $200 mark with carrier subsidies. The full press release is attached after the break.
COMPUTEX 2009—TAIPEI—JUNE 2, 2009—NVIDIA Corporation and industry partners today unveiled 12 new high-definition mobile Internet devices (MIDs) all powered by the NVIDIA® Tegra™ processor, the world's smallest and lowest power computer-on-a-chip. These new Tegra-based devices, which include netbooks and tablets, deliver desktop-class Internet browsing with Flash video and animation acceleration, and up to 1080p video playback. NVIDIA Tegra processors feature always-on operation for instant access to the Internet, which compares to that of cell phone-class power management, and up to 5x the battery life of current netbooks—making days of HD mobile Internet experiences a reality.
"The mobile computing revolution has arrived," stated Michael Rayfield, general manager of mobile business at NVIDIA. "These new Tegra-based products combine excellent Internet and media capabilities, always-on operation, and wireless connectivity for the un-tethered Internet experience consumers have been craving."
With more than 20 Tegra-based projects currently in the works today, those attending Computex can see the following devices:
Compal Communications, Inc. CN88 (netbook)
ICD Ultra (tablet)
Inventec Applications Corp. Rainbow (netbook)
Mobinnova Mabo (tablet)
Mobinnova ViewBook N910 (netbook)
Pegatron Vivid (netbook)
Wistron M5 (netbook)
"We've seen a groundswell of demand from consumers and telcos around the globe for a highly capable, low power, low cost netbook," stated Mike Holland, vice president of business development, Mobinnova. "Thanks to Tegra we've been able to deliver that and more. With three new Tegra-based devices, we'll be one of the first to meet that demand."
Wireless phone carriers around the world are looking to expand the reach of the broadband Internet and agree that the always-on mobile Internet experiences enabled by Tegra-based MIDs will help drive new revenue streams and demand for 3G networks. Government programs to deliver the Internet to more people will have a greater impact since the subsidy budgets will go farther because of the lower system cost that Tegra enables. NVIDIA Tegra-based MIDs will support 3G, WiFi, and WiMax solutions from Motorola, Sierra Wireless modules based on Qualcomm, Icera, Via telesystems, and ST Ericsson to meet the needs of every carrier in every geography.
"Devices based on NVIDIA Tegra will allow us to offer a mobile Internet device that delivers an amazing level of functionality at minimal cost or even free through subsidies," stated Antonio Domit, Executive Technology Advisor to America Movil, Grupo Carso, and Inbursa. "The combination of a Tegra-based MID and our high-speed national coverage will allow millions of people to access the Internet and have an unprecedented experience. I can imagine the story is the same for every country around the world."
The Internet experience cannot be complete without great support for Adobe Flash, which is included in over 80% of the top 100 Web sites. In a separate announcement, NVIDIA announced that it has joined forces with Adobe to optimize and enable Adobe Flash to leverage the GPU (graphics processing unit) for visual computing so consumers can experience fluid Flash video and animations using a small fraction of the power needed by other netbooks. In addition to browsing Web sites with Flash, Tegra-based MIDs deliver all-day media processing, including:
Listening to music for 25 days straight on one charge
Watching 1080p HD video for up to 10 hours
Playing video games at 46 frames per second
The NVIDIA Tegra processor is a heterogeneous multiprocessor architecture. Each processor unit is architected for a specific class of tasks—a CPU for running html and Java, an HD video processor that makes streaming HD video playback possible on a netbook for the first time*, and an ultra-low power NVIDIA GPU for a compelling user interface and for Flash acceleration. These processors are used together or independently to deliver a wonderful experience while utilizing minimal power. With its ultra-low-power processor design, NVIDIA Tegra processors achieve up to 5 times the power efficiency of existing products in battery-operated computer systems running compelling visual computing applications.