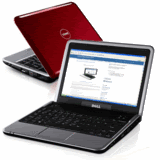 It looked like the writing was on the wall for the Dell Mini 9, when at the weekend all listings for the popular 9-inch netbook vanished. Unfortunately, this has now been confirmed on the Dell Blog. Yesterday marked the official retirement of the Mini 9 and from the sounds of things there will be no 9-inch replacement.
The Dell Mini 9 was a big favourite with modders and those who looked to hackintosh their netbooks. Dell is touting the Mini 10v as a capable netbook to fill its modding shoes. It offers the same spec as the Mini 9 but with a bigger screen and keyboard, and a 160GB hard drive. However, according to Boing Boing's guide to netbook hackintosh compatibility, the 10v isn't as Mac OS X friendly as the Mini 9 was.
However, if you really want to get the Inspiron Mini 9, you might want to go for the business-targeted Dell Vostro A90 (a rebranded Inspiron Mini 9) which is still being sold (for the time being).