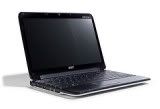 Acer is reportedly reducing volumes of its 11.6-inch Aspire One 751 netbook due to disappointing sales. Industry sources say that sales of the 11.6-inch netbook have not met expectations, with consumers picking 10-inch models instead, that offer better mobility.
Quanta Computer who manufactures the netbook is said to be winding down volumes. This seems like a strange move, especially since the 751 (or AO751h as it is known in the US) has not yet made it to US shores. Pre-orders only recently went up from our quick look around. Demand may start to pick up as the price inevitably declines.
The Aspire One 751 has mainly been criticised for poor hardware performance (mainly down to the Z520 Atom processor), despite offering an attractive and slim chassis with high-resolution display.