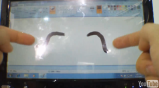 The 8.9-inch Asus Eee PC T91 is one of our most eagerly anticipated netbooks. However, if there was one feature we wish it had, was a multi-touch screen. With Windows 7 launching in just over four month's time, a multi-touch screen in any netbook device right now would be a forward-looking inclusion.
It may seem that Asus is thinking along the same lines. Eee-PC.de found an Eee PC T91 display unit running Windows 7 software that had a multi-touch panel (see the video after the break).
I find it hard to believe that the T91 that will start to ship this month will come with a multi-touch panel. The specs listed on the official product page, specifically talks of a resistive rather than capacitive display. Asus may have a premium T91 SKU planned with multi-touch capability to tie in with the launch Windows 7. The only thing I can think of is that Asus has enabled multi-touch on a resistive panel, which is possibility.
Update: JKKMobile also has a video demonstrating the multi-touch features of the Eee PC T91. Apparently, he has confirmation that only the Windows 7 SKU will ship with a multi-touch panel. See this video also after the break.