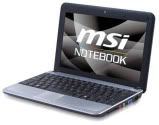 As things stand, there aren't too many netbooks that have hybrid storage systems. The most notable one is MSI's 10-inch Wind U115 Hybrid that uses both a 8GB SSD and 160GB HDD. One of the benefits of such a system, is that battery life can be prolonged by disabling the HDD when not in use.
However, it appears that we won't be getting too many more netbooks that employ similar systems if Microsoft gets its way. According to bit-tech, Microsoft is banning netbook manufacturers from producing hybrid storage netbooks, when using Windows XP Home.
If true, this seems to be an extension of Microsoft trying to separate low-end netbooks from more premium models by renaming the 'netbook' term. To get around this, I imagine vendors could use Windows 7, but it's unknown whether Microsoft has placed stipulations on Windows 7 too.
The report says that MSI has until the end of June to remove the U115 Wind netbook from the shelves. I really hope that is not the case, as the U115 is one of the most unique netbooks on the market. It offers the longest battery life and very good performance for a 10-inch netbook. Yes, the styling isn't inspirational and it comes at a premium, but there is no doubt a market for this type of netbook.
I do wonder whether MS has the power to take the U115 Hybrid off shelves. Surely a change of OS to maybe XP Pro would appease MS, but consequently this will raise the price of the U115 Hybrid. More news on this as we have it.