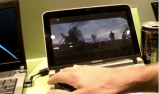 Nvidia has really come out in force at the Computex show in Taiwan. It has shown off ION on 21 new devices as well as educating the world about its Tegra platform. Tegra marries an ARM-based processor with an Nvidia GeForce GPU (ION pairs an Intel Atom CPU with Nvidia 9400M graphics).
Nvidia claims Tegra to be one of the most powerful SOCs (system on chips) – able to handle 1080p video, HD Flash, GPS, Wi-Fi, 3G and a huge battery life. The video below (courtesy of NetbookNews) shows the trailer for the new Star Trek film running at a bitrate of 12-14Mbits. It also shows that the chip can run older games (like Quake) at 46fps. All of this at a maximum power consumption rate of just 1W.
The other video below shows a TechVideoBlog interview with Gordon Grigor, Nvidia's Director of Mobile Software. He demonstrates streaming a 720p HD video trailer over wireless as well as full-screen Flash in the Firefox browser. The platform will have RAM limited to 512MB, only future devices will see RAM of 1GB. You'll only see minimal storage in these devices too. Firefox will cope with about 3-4 tabs open at one time using a model with 512MB RAM. He also confirms that the Tegra 600 can do 720p H.264 video whilst the Tegra 650 can decode 1080p.
Via Engadget.