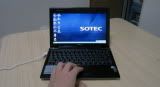 Onkyo only very recently announced its super-slim 10.2-inch C204 netbook, weighing just 960g and coming at 23mm thick. The netbook hit Japan retail a few days ago and Portable Monkey has already gone hands-on.
The specifications are pretty normal, although you will find a 32GB SSD under the hood. The Sotec C204 comes with a 10.1-inch (1024 x 600) Led backlit display and is powered by a 1.6GHz N270 Atom CPU & 945GSE chipset plus 1GB (max) RAM. Other features include wireless draft-N, three USB ports and a 0.3MP webcam. The touchpad supports multi-touch gestures and the 1800mAh battery is expected to last 5 hours.
Initial impressions appear to be positive, feeling lighter and slimmer than the luxurious Asus Eee PC S101. However, despite the average specs, the C204 is as loud as the 8.9-inch Acer Aspire One. Unfortunately, there is also no SSD-access panel on the bottom of the netbook and VGA is taken care of by a mini USB adaptor. Check out some video impressions after the break.