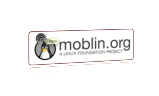 Moblin, the Intel-backed Linux operating system tailored for netbooks, has been growing in momentum over this past week at Computex Taipei. It has been pushing Moblin V2.0 along with the Linux Foundation, who took control of the project in April.
A number of operating system vendors (OSVs) have already committed to Moblin. This includes Linpus, who will offer its Moblin V2 Linpus Linux Lite in two versions, one with a Linpus UI and one with Intel's UI. Canonical will release an "Ubuntu Moblin Remix", whilst Novell demoed its SUSE edition of Moblin Version 2 on Acer and MSI hardware at Computex. Xandros also demonstrated its "Xandros Moblin 2 solution" on an Asus Eee PC in at Computex.
Now we have the news that Moblin 2.0 will support Google's Android Market, which offers free and paid applications that can be downloaded to devices based on Google's Android operating system. The system will operate in a similar way to that announced by Canonical: a run-time environment will provide a compatibility layer between the Android application and the Moblin operating system, allowing the applications to run as they would on a native Android system.
Anand Chandrasekher, senior vice president of Intel's ultra mobility group, showed several Android applications installed on an Atom-based netbook running Moblin 2.0 during a speech on Thursday. The Moblin Linux kernel was created to be a fast and lightweight platform, specifically designed to run on Intel Atom-based netbooks. The v2.0 Beta is available to download now.