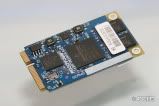 Trying to watch HD content on a netbook can be a trying experience. Whilst 1080p is a no-go for most netbooks, some are able to play 720p video through various tweaks and choosing carefully which software to use. Broadcom aims to make that work a thing of the past with its Crystal HE Media Accelerator.
This device enables "flawless playback of all internet steaming video" according to the company, along with support of 720p and 1080p (H.264) video content. It claims that using this accelerator (in PCI-E or Expresscard/34 format) means that HD content will not stutter, even with a 100 percent CPU load.
This accelerator will be used as an option in the newly announced HP Mini 110 XP Edition along with the rumoured Acer Aspire One 571. However, if you have a spare PCI-E or Expresscard slot, there's no reason you couldn't use this in your current netbook to give a boost to your video performance. These add-ons are in full production now. Check out some close-up pictures of this card after the jump courtesy of ASCII.jp.
Via Portable Monkey.