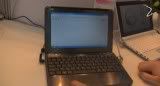 Lengda is not a manufacturer I have come across before, however they introduced a couple of interesting netbooks at Computex this week. This includes the 10.2-inch stainless steel Lengda X10K and the 11.1-inch CULV-based M11A netbook.
The X10K is the first ever stainless steel netbook (which weighs 1.37kg), but for those of you worrying about the extra weight this may add, Lengda is also planning an aluminium version soon. Additional options include a pull-out 3G and TV-Tuner.
The Lengda M11A has an 11.1-inch screen, the first netbook that I've seen with that sized display. It is powered by a Celeron ULV processor and weighs just 1.3kg with a 4-cell Lithium Polymer battery. There are three USB 2.0 ports, VGA output and memory card reader, but there's also an integrated TV tuner. There is no detail on technical specs, pricing or availability but we'll be keeping a close eye for further news. Check out a couple of hands-on videos after the break courtesy of NetbookNews.
Lengda X10K
Lengda M11A