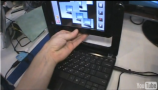 Taiwan's Institute for Information Industry (III) showed off a very intriguing device at Computex this week. In a form factor that reminded me of Always Innovating's Touch Book, the Mtube II is a netbook that has a detachable keyboard, which means it can also be used as a tablet device. However, by taking this concept one step-further, the Mtube II runs two different operating systems – Windows XP in netbook mode and switching to Android when in tablet mode.
It seems that the device has two processors, the old 1.6GHz VIA C7-M CPU for netbook mode and a 533MHz Samsung ARM processor when running Android in tablet mode. Thankfully the model has a matte display, which should hopefully mean less fingerprint marks. The tablet connects to the netbook by VNC (remote control) so video performance probably won't be up to scratch. Battery life in tablet mode is around two hours.
This model is only a prototype and a final retail version is unlikely to be out until next year and as you can imagine there's no idea on price right now. We're very much looking forward to seeing more devices sporting this form-factor in the future. Check out three videos of this device in action after the break.
Via Engadget, JKKMobile and HowToBeMobile.