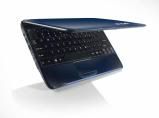 Acer is planning to launch an 11.6-inch ultra-thin model, which is based on Intel's CULV platform, in July according to Digitimes. The new model will fit in Acer's Timeline series of ultra-thin notebooks and will be manufactured by Quanta.
We recently heard that Acer is looking to rein back shipments of its 11.6-inch Aspire One 751 (AO751h) netbook, following disappointing sales. The report goes on to say that Acer will either look to phase out the 751 or drop its price when the new 11.6-inch ultra-thin launches to clearly define the difference between both 11.6-inch offerings.
Specifications for this new 11.6-inch ultra-thin are unknown right now, although it looks like Acer has realised that one of the shortcomings of the Aspire One 751 was its 1.33GHz Z520 Atom CPU. The Timeline series of notebooks is based on Intel's Celeron CULV platform and there is no reason why this new model wouldn't support the same processor. At least with this platform, Acer would make the most out of its 1366 x 768 display by enabling smooth HD 720p content.